Posted: under Social media, Twitter, Twitter book, Twitter for Business, Twitter for Friends.
Tags: book promotion, Social media, social networking, social networks, Twitter book
Hello Social Media! I am asking for your help. I am not asking you to spend a penny, and I do not mean to take a lot of your valuable time.
I need you to help me spread a message of friendships, business, the bridge between the two, and the value of having friends to lend a hand. Along with a ton of helpful tips and tools relating to Twitter, the importance of relationship building is a strong message in my new book, and if you can help others to hear about it, you will have done me a huge personal favor, and one that I hope you will feel good about.
I spent a lot of time thinking about writing this book. I really did not want to be the guy selling a book, because I knew it would be hard, and I knew there would surely be nay-sayers. Friends enticed me by telling me the Internet, including Twitter, could really benefit from my no-nonsense approach, and that they really believed I have valuable experience to share with others. So I spent hundreds of hours … months of my life … during a recession, to produce a book that I sincerely believe can benefit the Twitter community, and beyond Twitter, with lessons I have learned about social networking. Now I must find whether I have done the right thing … I hope so!
Here it is … my quest to see if I am right, or if I am wrong. If I am right, people will pitch in and help me to spread the word. If I am wrong about building relationships and networks of alliances, then I guess the book is not worth the paper it is printed on.
How Can You Help?
I would first like to ask you to join my Facebook page and follow me on Twitter and watch carefully for updates. The big effort is to have the book become very popular on Monday. Here are a few ways you can start helping to spread the message … and remember … Monday is the big day!
Share this with others using Twitter, Facebook, Digg, StumbleUpon, Sphinn, Reddit.
Tweet it again! Not everybody sees it the first time you tweet it.
Add a link to your Website / blog. I have added some graphic and text links below along with the code to put it on your site.
Blog about it … here is an example of a similar case when I was asked to help.
Ask for it in book stores.
Recommend me for an interview with television or radio stations. They love Twitter, and a story about it benefits them, and me. Here is a press release.
Thank you so very much for any assistance you can give!
I wish to sincerely thank you. Please know that I will be there to do the same for you when you need me!
Link to TwitterForBusinessTwitterForFriends.com
Example:
I Support Murnahan's Book Launch!
Code:

---
Example: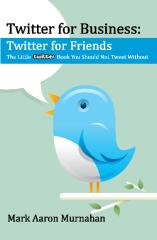 Code:

---
Link to the book on Amazon.com!
Example:
Order Twitter For Busines: Twitter for Friends by Murnahan!
Code:

---
Example: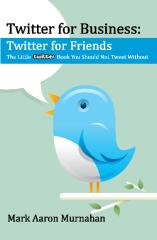 Code:

Comments (0)
Oct 01 2009